Unlocking online success: why I'm your best choice for an SEO agency in Toronto
Explore the intricacies of SEO in Toronto's bustling digital world. Learn how a blend of local insights and expert strategies can propel your brand to the forefront.
Hey there! You know, in this digital age, having a strong online presence is like owning prime real estate in the heart of the city. And Toronto? It's not just a vibrant city with the iconic CN Tower; it's also emerging as a digital marketing powerhouse. But with this rise, how do you ensure that your business isn't just another brick in the vast digital wall? Enter the world of SEO agencies. Stick with me, and I'll walk you through why partnering with someone who knows the Toronto scene inside-out is your golden ticket.
Understanding SEO: more than just keywords
Alright, first things first. Let's clear the air about SEO. It's not just about stuffing articles with keywords or making Google bots happy. Imagine SEO as cooking a gourmet meal. The keywords are your main ingredients, yes, but the way you prepare, season, and present it? That's what makes it a winner.
There's on-page, off-page, and let's not forget, technical SEO. It's an ever-evolving game, and staying on top means always being on your toes. So, ask yourself this: wouldn't you want to work with someone who knows the recipe by heart?
Why local expertise matters in SEO
Think of Toronto as a massive, buzzing marketplace. Now, imagine setting up a stall here. Wouldn't you want someone who knows the ins and outs of the place? Someone who can guide you to the best spots, knows what the locals like, and can even predict when it might rain? That's what local SEO expertise brings to the table.
Case in point: I once worked with a local cafe here in Toronto. They had the best lattes but were hidden in a quiet alley. With a blend of local SEO magic, soon enough, they weren't just a hidden gem. They became a must-visit spot for every coffee lover in town.
Characteristics of the best SEO agency
Now, let's talk brass tacks. What makes an SEO agency worth its salt? First off, an insatiable appetite to learn. The digital world spins fast, and catching up means constant learning.
Next, a tailored approach. Just like suits, SEO isn't one-size-fits-all. Each business is unique, and so should be its strategy. And of course, transparency. It's like being in a relationship; trust is everything.
Now, imagine an SEO agency that not just ticks all these boxes but wraps it up with a shiny bow of positive client stories. Sounds dreamy, right?
Why I stand out in the Toronto SEO scene
You see, when you're working with a freelancer or consultant like me, it's like hiring a personal chef instead of dining in a crowded restaurant. Every dish, or in this case, strategy, is tailored to your taste.
Having worked in Toronto for years, I've got the pulse of the market. Be it the trendy spots or what the locals are chatting about at brunch; I've got it all covered. And my past projects? Think of them as five-star reviews on my culinary, I mean, SEO expertise.
Common SEO misconceptions
While we're on this journey, let's debunk some myths. SEO isn't a magic potion. You don't wake up the next day topping the charts. It's more like gardening. You plant, nurture, and watch it grow over time. And no, there aren't any shortcuts or dubious tricks. That's like expecting a plant to grow overnight by pouring energy drinks on it. Doesn't work, does it?
How to choose an SEO agency in Toronto
Choosing an SEO agency is like picking a gym. You want the best equipment, sure, but what about the trainers, the atmosphere, and the location? Here's a handy checklist:
Do they understand your goals?
Are they promising the moon and stars overnight?
Is there a culture fit? After all, you're going to be partners in this journey.
Remember, it's not just about flashy promises; it's about finding someone who fits seamlessly with your vision.
Get Your Free On-Page Content Checklist
Boost Your Content Quality: Just enter your email and get our essential On-Page Content Checklist straight to your inbox.
3k+ people have downloaded this checklist.
Your email is secure and won't send you any spam.
Offering more than SEO: a holistic digital marketing approach
Imagine SEO as the heart of your digital body. Vital, right? But what about the other organs? Your content is the brain, social media the limbs, and PPC, the fast-paced blood pumping through. For a healthy digital body, every part should be in sync.
That's why, beyond SEO, a comprehensive digital strategy is what elevates you from good to outstanding. It's like having a well-balanced diet for your brand. Tempting, isn't it?
Offering more than SEO: a holistic digital marketing approach
Now, if we dive a bit deeper, you'll realize that the digital world is much like a bustling metropolis, with SEO being your home base. But just having a home isn't enough, right? You need the roads (content marketing), the transport (social media), and sometimes, the super-fast express trains (PPC) to get around.
For instance, even if you nail the SEO part, what happens when your visitors land on your site and find content that's as bland as unsalted popcorn? Or imagine having fantastic content, but it's like a tree falling in a forest with no one around. That's where integrating with robust content marketing and social media strategy kicks in.
And for those moments when you want an extra push or aim to target a specific audience segment rapidly? PPC campaigns act like those turbo boosters, propelling you right where you want to be.
In essence, while SEO lays the foundation, it's the synergy of all digital elements that creates a symphony of success.
Beyond the basics: The art and science of SEO
Navigating the digital waters of Toronto requires more than just basic knowledge. It demands a blend of art and science. Art, in terms of crafting strategies that resonate with the audience, and science, in analyzing data to tweak and refine those strategies for optimal results.
Have you ever noticed how certain brands just 'get it'? Their content feels like a casual chat between friends, and their online presence seems effortless. But behind the scenes, there's a symphony of strategic moves, all meticulously planned and executed. That's the art.
And the science? It's the numbers game. Analyzing user behavior, understanding search patterns, and diving deep into metrics to ensure every move is data-driven. Because in the digital realm, gut feelings need the backing of hard data.
The Toronto edge: local insights for global reach
What sets Toronto apart isn't just its iconic landmarks or cultural diversity. It's the pulse of the city, the unique blend of global perspectives with local insights. And this is the essence that needs reflecting in your SEO strategy.
A local event, a cultural festival, or even the changing seasons – these are not just Toronto moments but opportunities to weave your brand narrative into the city's fabric. And who better to guide you than someone who's walked the streets, experienced the festivals, and understands the city's heartbeat?
The journey ahead: partnering for success
Imagine setting off on a road trip. You've got your destination in mind, but you need a reliable navigator, someone who knows the shortcuts, the scenic routes, and the must-visit spots. That's our partnership. Your vision is the destination, and I'm here to ensure we enjoy the journey and reach our goal, driving the Toronto digital highway.
Every tweak in strategy, every piece of content, and every analysis is a step closer to that digital success. With me by your side, you're not just hiring an expert; you're gaining a partner invested in your success.
Final thoughts: the digital dream realized
Picture this: A bustling Toronto street, the hum of chatter, the aroma of street food, and amidst all this, a giant screen showcasing the top businesses in the city. Now imagine your brand right there, shining bright, drawing eyes, and being recognized. That's not just a dream; it's a potential reality.
But like any grand vision, it starts with small, calculated steps. Steps that build on each other, creating a ladder to success. With the right SEO strategies tailored for Toronto's unique landscape, we can craft that ladder, rung by rung.
So, here's a question: Are you ready to climb?
Your next move could very well define the trajectory of your brand in the digital space. Whether it's a subtle nudge or a giant leap, remember, in the world of SEO, especially in a dynamic city like Toronto, the journey is as important as the destination. And with the right partner, that journey can be nothing short of spectacular.
Shall we begin?
Consultant SEO
An SEO expert works on a set of factors in order to improve the visibility of all the pages of the website in the search engines. Each SEO consultant has his own method. My approach is based on four main factors:
Technical
Clean up your website of configuration errors, duplicate pages that are too slow or difficult to access by the visitor.
Content
Study your content so that it is relevant to both your ideal client and your target audience.
Popularity
Boost your external link and citation strategy, demonstrating to search engines that your site is a credible, authoritative source.
Search Experience Optimization
Optimize the user experience by synergizing SEO rules, the customer journey and the conversion tunnel.
⚡️
Ready to Dominate Google Traffic?

Try my services risk-free with my money-back guarantee policy.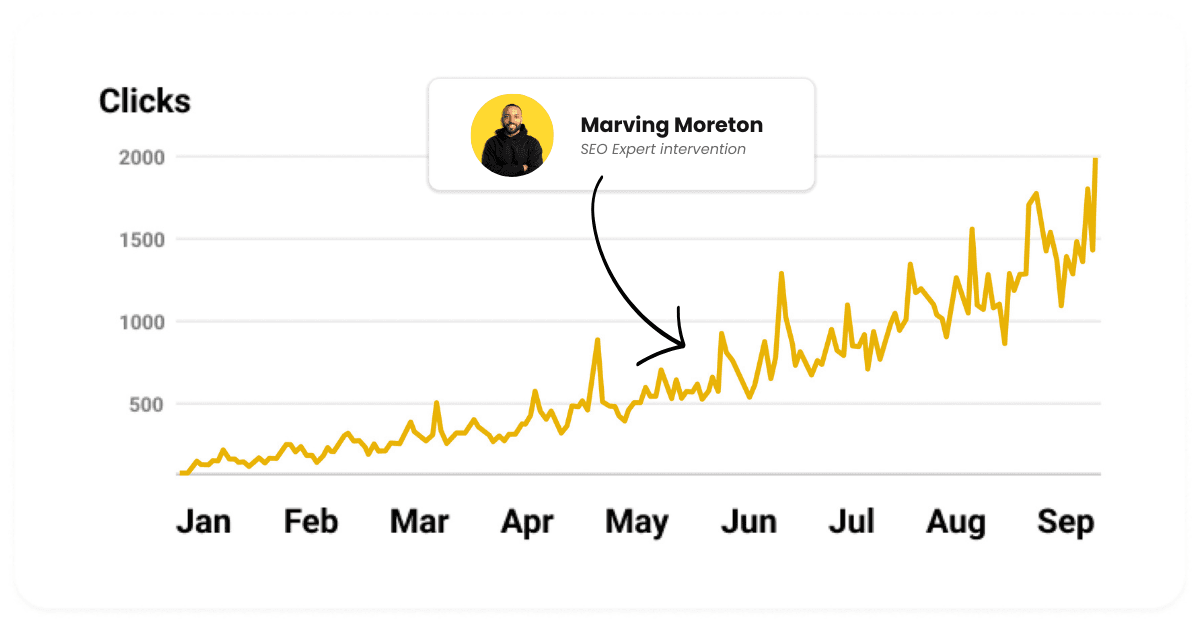 "Marving's SEO Services was game-changing for Remote Marketer Jobs. Precise, actionable, and efficient insights that propelled our brand's reach!"