Local SEO Company Toronto: The Ultimate Guide
Dive deep into local SEO strategies tailored for Toronto businesses. Connect, collaborate, and conquer your local digital market.
Hey there! If you're running a business in the bustling city of Toronto or are just curious about the digital landscape here, you're in the right place. Ever wondered why some local businesses pop up on your search engine when you type in best coffee shop near me while others don't? It's not just about good coffee—it's about good local SEO.
Let's dive into what that means for Toronto businesses like yours.
What is local SEO?
Okay, imagine you're playing a game where you have to stand out in a crowd. But this isn't any regular crowd—it's a digital crowd. Local SEO is like being handed a neon sign in that game, making you visible to everyone, especially those right in your neighborhood.
In techy terms, local SEO ensures that your business gets noticed by people specifically searching in your area. So, if someone in Toronto is looking for a service you offer, local SEO ensures you're in their line of sight. It's not just about being online; it's about being online and relevant to your local community.
Why Toronto businesses need local SEO
Toronto isn't just any city—it's a diverse, dynamic, and digital-heavy landscape. The online market here is massive. Think about it: when was the last time you picked up a physical directory to look up a local business? Probably ages ago, right?
With smartphones in almost every pocket, people are constantly searching for local businesses. And Toronto, being the multicultural hub that it is, sees a plethora of local searches daily. Want to be the local bakery everyone raves about? Or that consultant everyone trusts? This is where the magic of local SEO kicks in for Toronto businesses.
Elements of successful local SEO for Toronto businesses
Alright, let's get down to the nitty-gritty. How do you make your Toronto business shine in local searches?
Google My Business (GMB) listing
Remember that neon sign analogy? Your GMB is like your neon sign's power source. It's free, and it's a game-changer. A well-optimized GMB listing gives your business that digital storefront. Got a new offer? Update it there. A fantastic review? Showcase it!
Local keyword research
Keywords are like the breadcrumbs that lead customers to your door. Including words like 'Toronto' or local landmarks can make you pop up when someone nearby searches for your services. It's like the digital version of shouting, Hey, I'm right here!
On-page SEO elements
Let's keep it simple. Make sure the name of your business, its address, and phone number are consistent everywhere online. It's like making sure your home address is the same on all your mail; otherwise, how will people find you?
High-quality content creation
Content is king, but locally relevant content is the emperor. Hosting a local event? Write about it. Collaborating with another Toronto business? Share the story. It's like hosting a local radio show, but on the internet!
Local link building
Networking isn't just for corporate events with fancy hors d'oeuvres. In the digital world, it's about building connections with local websites, bloggers, and businesses. It's the online version of getting a shoutout from the popular kid in school.
Online reviews and reputation management
Imagine someone shouting praises about your business in the middle of Yonge-Dundas Square. Feels great, right? Reviews are the digital equivalent. Encourage your customers to leave positive reviews and address any concerns they have. It's all about building that trust.
Choosing the right local SEO company in Toronto
Alright, you're convinced. Local SEO is the secret sauce for your Toronto business. But how do you choose the right chef to prepare that sauce? Here are some pointers:
Experience with Toronto businesses: It's one thing to know SEO, and another to know local SEO for Toronto.
Transparent communication: No one likes surprises, especially not in business.
Tailored solutions: Every business is unique, just like every person. Your local SEO strategy should reflect that.
Get Your Free On-Page Content Checklist
Boost Your Content Quality: Just enter your email and get our essential On-Page Content Checklist straight to your inbox.
3k+ people have downloaded this checklist.
Your email is secure and won't send you any spam.
How I can help: my expertise as a freelancer and consultant in local SEO
Now, here's a little about me. Why trust me with your local SEO? Well, I've been diving deep into the Toronto digital landscape for years. I've seen what works, what doesn't, and what's changing.
I've helped local businesses, maybe just like yours, not only survive but thrive. And you know what? I believe every Toronto business has a unique story. My mission? To help tell that story and make sure it's heard loud and clear in this bustling city.
So, ready to make your mark in the Toronto digital space? Let's chat. Because in the end, it's not just about being online. It's about being found.
Now, if you're thinking, is this all? Well, there's a lot more to local SEO than meets the eye. Remember, this is just the tip of the iceberg. If you want to deep dive into the world of local SEO for your Toronto business, I'm just a message away!
Why collaboration is the new currency in Toronto's digital landscape
Have you ever noticed how the best Toronto street festivals, community events, or pop-up markets have one thing in common? Collaboration. Just as our favorite vendors join hands to create an unforgettable experience, businesses can do the same in the digital realm.
Local partnerships = mutual growth
Ever considered partnering up with a neighboring business for a digital campaign? Let's say you run a quaint bookstore in the Distillery District, and right next door is a cozy café. Why not create a reading nook with books from your store in their space, and in return, give café customers a special discount? It's all about leveraging each other's strengths. You bring the stories; they bring the coffee.
Host or sponsor local webinars and workshops
Toronto is brimming with talent. Hosting a webinar or workshop related to your business can put you on the map. Maybe it's a DIY crafts workshop if you're an art supplies store or a webinar on sustainable living if you're an eco-friendly brand. By doing this, you're not only establishing your expertise but also connecting with the community on a deeper level.
Feature local influencers and bloggers
You know those Toronto-based Instagram influencers or bloggers who just seem to capture the essence of the city perfectly? Reach out to them! A feature or a shoutout can introduce your business to a broader, yet still local, audience.
Engage with local news and events
Stay updated with what's happening around. Engage with local news outlets or community events on social platforms. Not only does this increase your visibility, but it also emphasizes your commitment to the Toronto community.
Tools and resources to boost your local SEO game
Alright, so you're all pumped up to dive deep into the world of local SEO in Toronto. But where do you start? Here are some tools and resources to set you on the right track:
Local directories and listings
Ensure your business is listed in local directories. Not just the big ones like Yelp or Yellow Pages, but also Toronto-specific ones. It's like setting up multiple signboards across the city!
Engage with local SEO forums and communities
Toronto has a vibrant community of digital marketers, SEO experts, and business owners. Engage with them, ask questions, share experiences, and learn. Remember, collaboration is key!
Stay updated with local SEO tools
Tools like Moz Local or BrightLocal can be game-changers. They can help you track your local rankings, monitor reviews, and even spy on your competition (in a friendly way, of course!).
Conclusion
Toronto is vibrant, diverse, and ever-evolving. And in this digital age, it's more crucial than ever to make sure your business doesn't get lost in the shuffle. Local SEO isn't just a buzzword—it's your ticket to being seen, heard, and loved in your community.
Remember, every Toronto street corner has a story, every neighborhood has its heroes, and every business has its unique flair. So why let your story go untold? Embrace local SEO, and let's make sure your tale shines bright in the heart of Toronto.
Ready to navigate the bustling streets of Toronto's digital landscape? With a pinch of strategy, a sprinkle of passion, and a whole lot of local love, your business can become the talk of the town. And if you ever need a guide, you know where to find me.
Whew! We've covered a lot, haven't we? Local SEO is an exciting journey, especially in a city as dynamic as Toronto. And remember, if you ever feel lost or overwhelmed, I'm here to help you map out your path to success.
So, what's your next move? Are you ready to give your Toronto business the local spotlight it deserves?
Consultant SEO
An SEO expert works on a set of factors in order to improve the visibility of all the pages of the website in the search engines. Each SEO consultant has his own method. My approach is based on four main factors:
Technical
Clean up your website of configuration errors, duplicate pages that are too slow or difficult to access by the visitor.
Content
Study your content so that it is relevant to both your ideal client and your target audience.
Popularity
Boost your external link and citation strategy, demonstrating to search engines that your site is a credible, authoritative source.
Search Experience Optimization
Optimize the user experience by synergizing SEO rules, the customer journey and the conversion tunnel.
⚡️
Ready to Dominate Google Traffic?

Try my services risk-free with my money-back guarantee policy.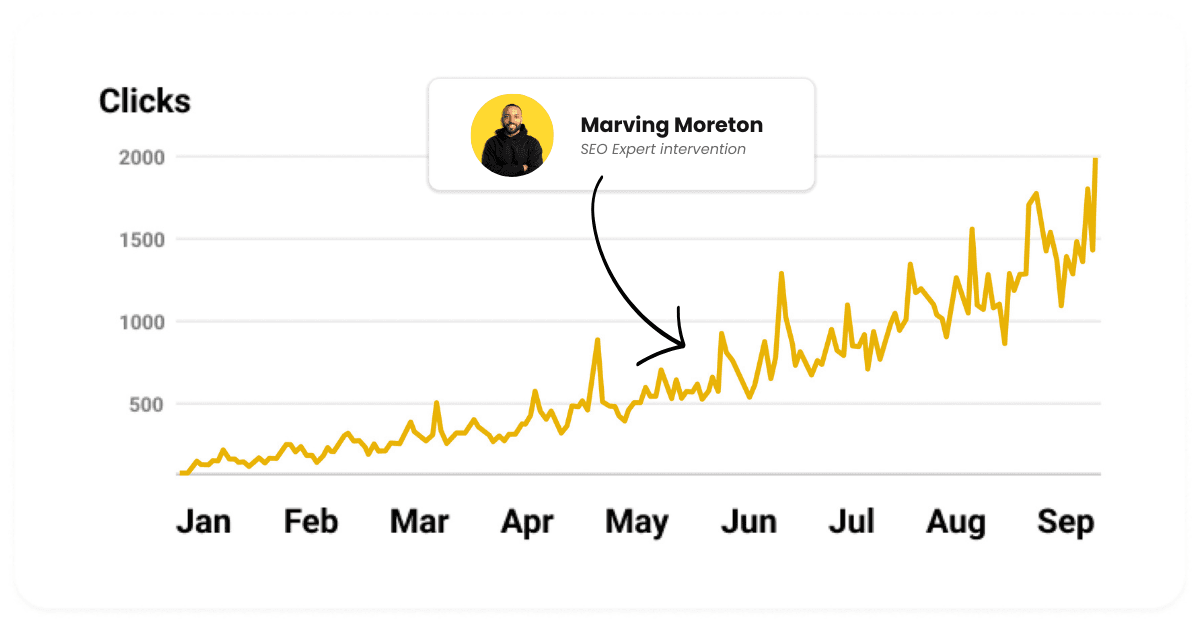 "Marving's SEO Services was game-changing for Remote Marketer Jobs. Precise, actionable, and efficient insights that propelled our brand's reach!"