SEO for Gyms: Your Ultimate Digital Fitness Guide
Embark on a journey through the digital realm, tailored for fitness businesses. From understanding your audience to future SEO trends, we've got you covered. Let's flex those digital muscles!
Hey there, fellow fitness enthusiasts and gym owners! Ever noticed how the digital world is becoming a lot like the gym? Both require commitment, consistency, and the right strategy to see gains. As the fitness industry rapidly changes, I'll be your digital personal trainer, helping you flex those online muscles with some top-notch SEO tips tailored for gyms.
Understanding the fitness audience
First thing's first – who is your audience? Just as you'd tailor a workout plan for someone wanting to build muscle versus someone aiming for endurance, you need to tailor your online presence to your target audience.
Picture this: Sarah, in her mid-30s, types into her phone, "best gyms near me with a swimming pool." She's not just looking for any gym. She's after a specific experience. Or take Mike, a recent college grad, who's more inclined to search for "affordable gym memberships for students." By understanding what Sarah, Mike, and others like them are searching for, you're better equipped to meet them where they are.
And here's a little food for thought. With more people going digital, especially post-pandemic, virtual workouts and health apps are gaining traction. How does your gym fit into this evolving landscape?
SEO basics: getting started
Alright, let's dive right into the deep end. Imagine SEO as the foundation of your digital house. Without it, your beautiful content, just like a house without a foundation, will simply collapse in the digital abyss.
Have you ever wondered why some web pages appear first on search engine results? It's not magic—it's SEO. To shine in this digital game, it's essential to understand terms related to your business, like "gym membership," "virtual fitness classes," or "personal training sessions."
What about the content on your website? Just like how you'd instruct your clients on the correct posture for squats, your website needs to be in its best form. Ensure your titles, descriptions, and headers are crisp, compelling, and communicate what you offer.
Local SEO: capturing your immediate market
You know how in some exercise routines, the local muscles get targeted? Similarly, in the digital world, there's something called "local SEO." It's all about targeting customers in your immediate vicinity.
Here's a game-changer: Google My Business. Think of it as your gym's digital front desk. It's where potential customers get a first impression, read reviews, find directions, and more. And speaking of reviews, ever noticed how we tend to ask friends for gym recommendations? Online reviews serve a similar purpose, helping newcomers decide if your gym is the right fit.
So, are you leveraging local keywords? Using terms like "gyms in [your city]" or "best fitness centers near [your location]" can help you attract local clientele.
The role of mobile SEO in the fitness world
Did you know that a significant chunk of your audience probably discovered your gym on their mobile devices while on the move, perhaps even during a coffee break? That's how integrated smartphones are in our daily routines.
This means your website has to be mobile-friendly. It's like ensuring your gym equipment is user-friendly for all members, regardless of their fitness level. Nobody wants a site that takes ages to load or looks wonky on their mobile screen, right?
Moreover, with countless fitness apps being a swipe away, it's crucial to think about how your gym could possibly integrate or leverage these platforms.
Link building: strengthening your gym's online authority
Now, onto building your gym's digital muscles. Backlinks, or links from other websites to yours, are like referrals or endorsements in the digital world. The more you have (from reputable sources), the more search engines think, "Hey, this gym's website must be trustworthy!"
Imagine if your gym got a shout-out from a popular fitness influencer or was featured in a top health magazine. That's what quality backlinks feel like in the digital realm. But a word of caution: like steroids in the fitness world, there are shortcuts and black-hat techniques in SEO. They might give you a quick boost, but in the long run? They'll harm your reputation.
Content ideas tailored for fitness enthusiasts
Content is king. And in the gym context, it's like the variety of equipment you offer. Too repetitive and folks get bored, right?
Consider sharing success stories or testimonials, showcasing real results from your members. Or what about a how-to guide on perfecting the deadlift? Maybe even a fun infographic on the benefits of HIIT workouts? Mixing it up keeps your audience engaged and coming back for more.
Tracking your progress
Just as you'd monitor your gym members' progress, it's crucial to track your digital growth. Tools like Google Analytics can be your best buddy here. They help you understand what's working and where there's room for improvement.
Stay updated with the latest trends. SEO isn't static; it's an ever-evolving beast, much like the world of fitness. So, keep those digital muscles flexed and ready!
Future of SEO in the fitness industry
The fitness industry, like any other, evolves with time. Voice searches like "Hey Siri, find a gym near me" are becoming commonplace. And who knows? Tomorrow, we might have AR workouts where one could virtually try out your gym before even stepping in!
The role of mobile SEO in the fitness world
In the age of smartphones, your potential customers are likely scrolling through their devices looking for workout tips, nearby gyms, or the latest fitness trends. It's essential to ask yourself: When they stumble upon your website, what's their experience like?
Making your website mobile-responsive is akin to ensuring your gym can cater to all kinds of fitness enthusiasts. Whether someone's into powerlifting, aerobics, or yoga, you'd want them to feel welcome and comfortable, right? The same goes for your online visitors. Your site should load swiftly, display content neatly, and provide an intuitive user experience.
And here's a thought: With wearables like smartwatches becoming mainstream, there's a growing trend of people tracking their workouts. Can you imagine a future where your gym integrates seamlessly with these devices? A place where a member's workout data from your gym equipment syncs directly to their gadgets. The opportunities are boundless!
Link building: strengthening your gym's online authority
So, let's dive a little deeper into this digital endorsement we talked about. You want quality backlinks, but how do you get them? Well, it's a bit like networking in the fitness industry.
Start by collaborating with local businesses. Maybe the health food store down the street is willing to feature a guest post from you about the importance of post-workout nutrition. In return, you can promote their store to your members. Win-win!
Consider hosting or sponsoring community events, like a local marathon. Not only does this get your gym's name out in the community, but it's likely local news outlets or bloggers might cover the event, potentially linking back to your site.
Remember, it's all about building genuine relationships, both offline and online. No shortcuts, no gimmicks. Authenticity is key.
Content ideas tailored for fitness enthusiasts
Ever heard the phrase "Variety is the spice of life"? When it comes to your content, variety is indeed your best ally.
Think about hosting virtual Q&A sessions with fitness experts. Or how about a monthly challenge that encourages members to try out different workouts, with updates and tips shared through blog posts or videos?
Podcasts are all the rage now. Imagine starting one where you discuss various fitness topics, interview health experts, or even share success stories of your gym members. The possibilities are endless, and the beauty is, there's always something new to learn and share in the fitness realm.
Tracking your progress
Just as a fitness journey involves regular check-ins, tweaks to the diet, or changes in the exercise regimen, your digital journey needs constant monitoring.
Are certain keywords driving more traffic to your site? Great! Maybe it's time to create more content around them. Are visitors dropping off after checking your membership page? Perhaps it needs a revamp.
It's all about interpreting the data, understanding your audience's behavior, and then making informed decisions. After all, isn't that how we achieve our fitness goals too? By understanding our body's responses, and then tailoring our approach accordingly.
Future of SEO in the fitness industry
Technology is continually evolving, and it's crucial to stay ahead of the curve. With voice searches becoming more prevalent, it might be time to optimize your website for phrases people might actually say, like "What's the best gym for strength training near me?"
And while we touched upon Augmented Reality (AR) earlier, let's paint a clearer picture. Imagine someone puts on AR glasses and takes a virtual tour of your gym, feeling the vibe, seeing the equipment, maybe even joining a virtual Zumba class! As fantastical as it sounds, the future might just be around the corner.
Local SEO: capturing your immediate market
You know, I often equate Local SEO to spotting familiar faces at your gym. It's about creating that sense of community, recognition, and trust. So, how do you ensure that when someone in your vicinity thinks "gym", they think of you?
Claiming and Optimizing Google My Business: This is ground zero. If you haven't done this yet, it's like missing out on the foundational exercises in your workout regimen. Ensure your profile has accurate details—address, timings, contact details, and, of course, some high-quality images of your gym.
Engage with Reviews: Responding to reviews, both good and bad, shows you care. Remember the last time you gave someone advice on their form, and they appreciated it? Responding to online reviews feels the same. It builds trust and showcases your commitment.
Local Events & Partnerships: Hosting a community fitness boot camp or partnering with a local cafe for healthy meals can create a buzz. Local press might cover these events, providing you with those valuable backlinks we talked about earlier.
Content ideas tailored for fitness enthusiasts
Now, here's where you can truly differentiate yourself from every other gym out there. You want to be seen as an authority, a guiding voice in the cacophony of fitness advice.
Blogs: Regular, quality blog posts about trending workouts, nutrition tips, or even busting common fitness myths can drive continuous engagement. Remember that time you debunked the "no pain, no gain" myth for a beginner? It's enlightening moments like these that can be shared with a wider audience through blogs.
Videos: A picture speaks a thousand words, but a video? Probably a million. Short workout clips, testimonials, or even behind-the-scenes glimpses can make your audience feel connected, almost as if they're right there, sweating it out with you.
Interactive Content: Quizzes like "Find your ideal workout regime" or calculators for BMI, calorie count, etc., can keep users engaged. Plus, they provide value, helping potential members make informed decisions.
Get Your Free On-Page Content Checklist
Boost Your Content Quality: Just enter your email and get our essential On-Page Content Checklist straight to your inbox.
3k+ people have downloaded this checklist.
Your email is secure and won't send you any spam.
Tracking your progress
In the fitness world, tracking is everything. From counting reps to monitoring calorie intake, it's all about the numbers. Similarly, in the digital space, analytics play a pivotal role.
Bounce Rate: This metric gives insights into how many visitors leave your site without any interaction. It's like someone walking into your gym, looking around, and walking out without trying any equipment.
Conversion Rate: How many website visitors actually take the desired action? Be it signing up for a newsletter or inquiring about membership. It's a clear indicator of your website's effectiveness.
Organic Search Traffic: This is the real deal. It shows how many people found your website naturally via search engines. It's akin to folks hearing about your gym through word-of-mouth recommendations.
Future of SEO in the fitness industry
Innovation is key, both in fitness and SEO. As technology evolves, the lines between the physical and digital realms blur.
Personalized User Experience: Using data and AI, future websites might offer highly personalized experiences. For instance, when Sarah, whom we spoke about earlier, revisits your site, she could be greeted with content tailored to her interests—swimming pool schedules, aqua aerobics classes, and more.
Integration with Wearables: As health-tracking wearables become more sophisticated, there's potential for gyms to offer a seamless integrated experience. Imagine workouts at your gym directly syncing to a user's device, providing real-time data, feedback, and even personalized recommendations.
Conclusion
The world of fitness and SEO, while seemingly poles apart, share core principles—adaptability, commitment, and the relentless pursuit of excellence. As you guide your members toward their fitness goals, let this guide light your path in the digital realm.
Because at the end of the day, whether it's the gym floor or the vast online arena, it's all about making meaningful connections and leaving lasting impressions.
About the author
Through the sweat, grit, and digital challenges, I've been there, helping businesses like yours carve a niche in the online space. My journey has been as exhilarating as a high-intensity workout, and the results? Equally rewarding. So, if you're looking to elevate your digital presence, reach out. Let's embark on this transformation journey together!
⚡️
Ready to Dominate Google Traffic?

Try my services risk-free with my money-back guarantee policy.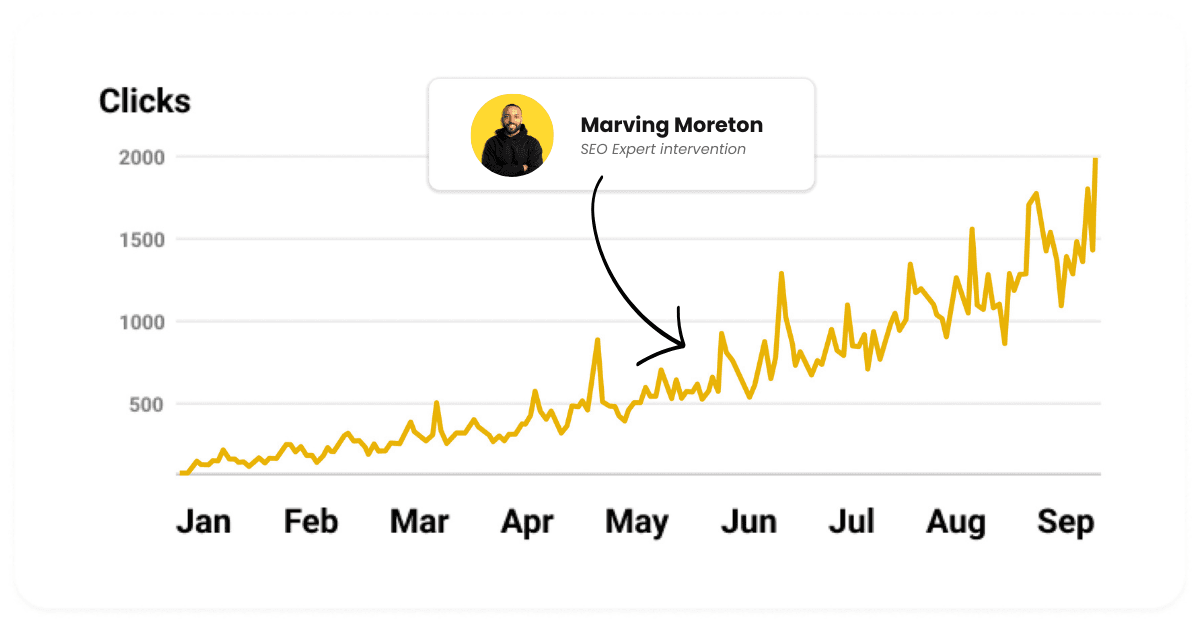 "Marving's SEO Services was game-changing for Remote Marketer Jobs. Precise, actionable, and efficient insights that propelled our brand's reach!"