Mastering SEO for restaurants: a comprehensive guide
Step into the world of restaurant SEO and uncover proven strategies to amplify your online footprint. Dive in and let's turn your restaurant into a digital sensation!
Hey there! If you're diving into the world of restaurants or already have your cozy corner spot, you might've heard about the magic word: SEO. But what's the fuss all about? Why does every restaurateur seem to be obsessing over it? Grab your favorite beverage, and let's unravel this mystery together.
Why restaurants need SEO now more than ever
Imagine this: you're in an unfamiliar town, and your stomach is growling louder than a lion's roar. What do you do? You probably pull out your phone, type in the best restaurants near me, and rely on Google to guide you, right? That's the magic of SEO in action!
The digital landscape has reshaped our habits. Gone are the days of relying solely on word of mouth or stumbling upon a gem by chance. In today's age, your restaurant might serve the most heavenly dishes, but without a strong online presence, it's like a hidden treasure waiting to be discovered. And trust me, in the bustling online marketplace, you don't want to be a hidden gem; you want to shine brightly for all to see.
And what about reviews? Ever noticed how a string of good reviews can lead you straight to a restaurant's door? Or how one bad review can make you reconsider your choices? SEO can help you manage and optimize these reviews to ensure your restaurant gets the spotlight it deserves.
Understanding the basics of SEO
Alright, let's break it down. Think of SEO as the seasoning to your favorite dish. Too little, and the dish feels bland. Too much, and it's overwhelming. Striking the right balance is key. SEO, or Search Engine Optimization, is essentially about making your restaurant easily findable and appealing to search engines and, in turn, to hungry customers.
You might hear terms like 'On-page' and 'Off-page' SEO. It's not as complicated as it sounds. Imagine your restaurant's website as a house. On-page SEO is everything within the house – the decor, the layout, the menu cards – all that jazz. Off-page SEO, on the other hand, is like your reputation in the neighborhood. What do others say about you? Are you recommended by the local food blogger or the newspaper?
Keyword research for restaurants
Keywords are like the secret ingredients in your grandma's special recipe. They're the terms and phrases your potential customers type into search engines. So, understanding and using the right keywords is crucial. Ever thought about why some restaurants rank high when you search for best vegan burgers while others don't? Yep, keywords!
But here's the catch: you don't want to overstuff. Remember the seasoning analogy? It's about sprinkling the right amount. Tools can guide you, but the real secret lies in understanding your audience. What are they searching for? Is it sushi places near me or romantic Italian dine-out?
Get Your Free On-Page Content Checklist
Boost Your Content Quality: Just enter your email and get our essential On-Page Content Checklist straight to your inbox.
3k+ people have downloaded this checklist.
Your email is secure and won't send you any spam.
Optimizing your restaurant's website
Got a minute? Cool, pull out your phone and visit your restaurant's website. Is it easy to navigate? Can you quickly find the menu, booking options, and contact details? If not, you might be losing out on potential customers.
People today are impatient (I mean, aren't we all?). If they can't find what they're looking for in a jiffy, they'll probably move on. Your website should be as inviting as the ambiance in your restaurant. Make sure it's mobile-friendly, has clear call-to-action buttons, and loads faster than it takes to say, Check, please!
And let's not forget the importance of appetizing images. Just like a mouth-watering dish displayed at the entrance can lure customers inside, high-quality photos of your delicacies can entice online visitors.
Local SEO: claiming your online territory
Alright, ever heard the saying, Think globally, act locally? Well, when it comes to restaurants, the local game is HUGE. Imagine someone in the area is craving Thai food. They don't want results from another city, state, or country. They're looking for that nearby haven of coconut curry and pad thai.
That's where Google My Business steps in. If you haven't set up or optimized your listing yet, it's like turning away customers at the door. Claim your business, ensure the details are accurate, and sprinkle in some high-quality photos. Make it a feast for the eyes!
Online reviews are the new word-of-mouth. You see, it's human nature to trust peers. So, when Emma raves about the 'to die for' tiramisu at your place, others listen. Make it a habit to respond to reviews, both good and the not-so-good ones. It shows you care. And if someone had a less than perfect experience, it's your chance to make it right!
Content marketing for restaurants
Now, I know what you're thinking: I run a restaurant, not a magazine! But trust me on this, content can be the cherry on top. Starting a blog might seem daunting, but it's simpler than whipping up a soufflé (and with fewer potential disasters).
Share behind-the-scenes stories. What inspired the chef's special? Any secret family recipes? Upcoming events? These tales make your restaurant relatable, and they're perfect morsels for the hungry search engines too.
Remember, every piece of content should serve a purpose. Just like you wouldn't put a random dish on the menu without thinking it through, each blog post, video, or image should be a treat both for your readers and the mighty Google.
Leveraging social media for SEO
Okay, quick quiz: Do you remember the last time you saw a drool-worthy dish on Instagram or Facebook and thought, I NEED to try that!? That's the power of social media.
While it might seem like social media and SEO are as different as chalk and cheese, they're more intertwined than spaghetti and meatballs. A buzzing social media presence sends signals to search engines, signaling that you're relevant, popular, and definitely worth a visit.
Which platforms should you hop on? Instagram, with its visual appeal, is a no-brainer for restaurants. Facebook's good for events and reviews. Twitter? Perfect for quick updates, shout-outs, and joining in on foodie conversations.
Monitoring and analyzing your SEO efforts
Let's face it; we all love some good feedback. Just like a compliment from a diner can make a chef's day, understanding how your SEO efforts are panning out can give you that much-needed pat on the back.
There are nifty tools out there that can give insights. Which keywords are getting you traffic? Which blog post became a surprise hit? Tracking these metrics is like having a constant finger on the pulse, ensuring your restaurant remains the talk of the town.
SEO mistakes to avoid for restaurants
Before we wrap up, let's quickly chat about some common pitfalls. SEO isn't a one-size-fits-all game. What works for a clothing store might not necessarily work for a restaurant. Avoid trying to game the system. No one likes spam, whether it's in their inbox or their food. Focus on genuine, high-quality content and interactions.
And keep yourself updated. SEO, like the culinary world, is always evolving. What's the flavor of the month today might be passé tomorrow. So, stay curious, stay hungry.
Conclusion
Well, there you have it! The world of SEO, served on a silver platter. Remember, at the heart of it, SEO is about ensuring your restaurant reaches those who are searching for exactly what you offer. With a sprinkle of patience, a dollop of effort, and the right strategies, you're set to make your mark in the digital world.
Whether you're the proud owner of a multi-cuisine diner or a quaint little café, SEO is your ticket to ensuring your tables are always filled with happy, hungry customers. Ready to serve up some digital success?
About the author
Hey, it's me again! Before you go, let me introduce myself a bit more. After diving deep into the world of restaurant SEO, you might be wondering, Who's this person giving me all these insights? Well, I'm not just a random voice from the digital abyss.
I've spent years exploring the intricate lanes of SEO and understanding how different businesses, especially restaurants, can benefit from it. From sizzling steak joints to quaint vegan cafes, I've assisted a plethora of eateries in finding their voice and space in the crowded online marketplace. And trust me, there's nothing more satisfying than seeing a restaurant thrive, knowing that I played a small part in their digital success story.
When I'm not nerding out on the latest SEO trends, you can find me exploring local eateries, always on the hunt for the next big culinary delight. The way I see it, my passion for food and my expertise in SEO are like wine and cheese - they just pair perfectly.
If you ever feel like discussing SEO strategies, sharing a favorite recipe, or just debating the best pizza toppings, feel free to reach out. After all, in both the world of food and SEO, collaboration is key. Let's cook up some success together!
Final thoughts
Navigating the world of SEO, especially for restaurants, might seem like trying to perfect a soufflé on the first go. But with the right ingredients (read: strategies) and a touch of patience, you can master this art. Always remember, the digital realm is as vast as the ocean, but with the right compass (or guide, like this article), you can sail smoothly.
Restaurants are all about experiences, and in today's age, that experience starts online. From that first Google search to clicking on a tantalizing Instagram post, every touchpoint is crucial. So, invest time, energy, and passion, just like you would in perfecting a dish. The rewards? A bustling restaurant, satisfied customers, and a digital presence that's the envy of competitors.
Until next time, keep those burners on high, and may your online rankings soar just as high!
⚡️
Ready to Dominate Google Traffic?

Try my services risk-free with my money-back guarantee policy.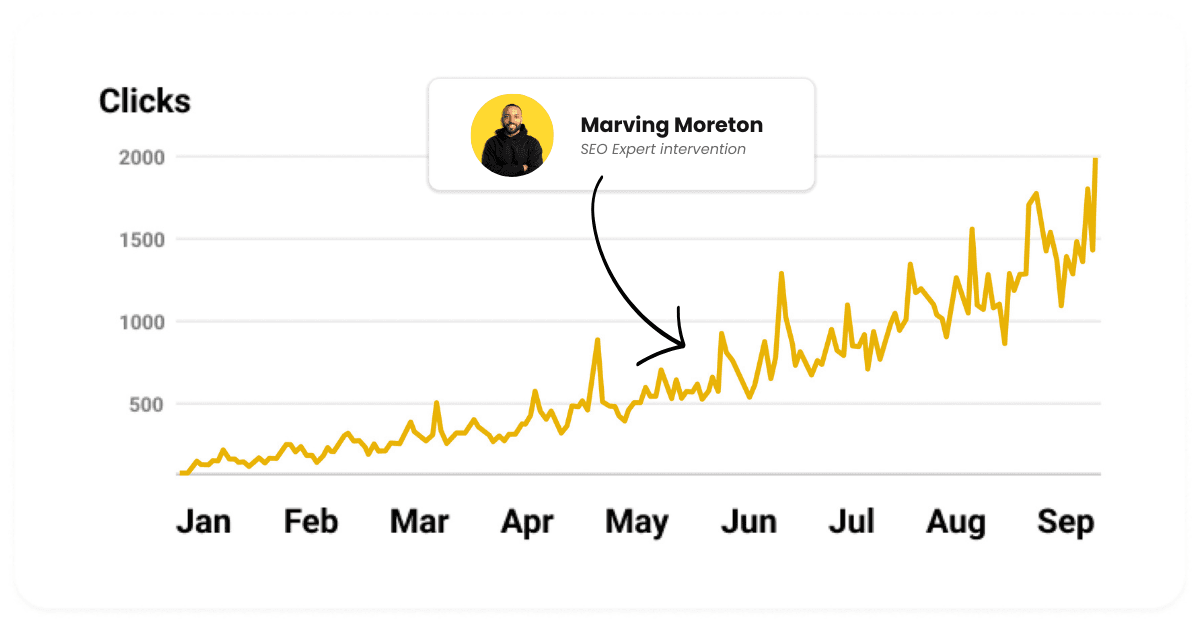 "Marving's SEO Services was game-changing for Remote Marketer Jobs. Precise, actionable, and efficient insights that propelled our brand's reach!"